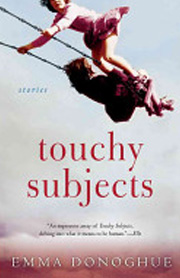 Touchy Subjects (New York: Harcourt; London: Virago, 2006). My eighth book of fiction, this collection of contemporary stories about taboos and embarrassment ranges from Ireland to Louisiana, Canada to Tuscany, and includes characters old, young, queer, straight, and simply confused. From the consequences of a polite social lie to the turmoil caused by a single hair on a woman's chin, it dramatises the small acts upon which our lives often turn. Touchy Subjects was longlisted for the 2006 Frank O'Connor International Short Story Award and was a New York Times Editor's Choice.
'The Dormition of the Virgin': this comic tale of an earnest English student's frantic tour of Renaissance churches in Florence is about life vrs art.
'Baggage': this story follows a Limerick woman to LA for one long hot weekend in search of her missing brother.
'WritOr': prompted by some of my less happy experiences of teaching creative writing, this is about an existential crisis in the life of a Writer in Residence.
'Lavender's Blue': another autobiographical story, this one is about a couple with the painful dilemma of choosing a paint colour.
'Through the Night': sparked off by our first baby, this story satirizes both sides of the mother/grandmother generation gap.
'The Man Who Wrote on Beaches': about a Born Again man who decides that Jesus wants him to marry his forty-two-year-old girlfriend and have children.
'Do They Know It's Christmas': a story about the family of nature and the nature of family, adapted from a short radio play I wrote for BBC Radio 4.
'Good Deed': a Good Samaritan in present-day Toronto tries to save the life of a street person.
'The Sanctuary of Hands': an Irishwoman has an embarrassing encounter in a prehistoric French cave.
'Necessary Noise': another story suggested by my father, the Bible tale of Martha, Mary and Lazarus transposed to modern New York.
'Pluck': based on an Irishman's panic over a hair on his girlfriend's chin, this is the story on which I based my short film of the same name (2001).
'Team Men': my first (and probably only!) sports story, set on a boys' soccer team, is based on the Bible characters of Saul, David and Jonathan.
'Enchantment': set in Louisiana, this is about a battle between two swamp tour guides.
'The Welcome': drawing on my fond memories of six years in a Cambridge housing cooperative, this is a love story with a twist.
'Oops': a terse comedy about a Dublin bachelor who thinks he's made his friend pregnant by fiddling with her electronic contraceptive device.
'The Cost of Things': a highly autobiographical story about a couple, their cat and a vet's bill.
'Speaking in Tongues': this edgy May-December romance is set at a Galway conference on bilingualism.
'Touchy Subjects': my contribution to the second of the bestselling Finbar's Hotel books, about a man attempting to donate sperm to his wife's best friend.
'Expecting': about a woman who gets entangled in a lie to do with being pregnant.
A personal note: Five of the stories in Touchy Subjects were inspired by trips I took, ten by various incidents in my life or those of my friends, and three by the Bible. But what unites them is a preoccupation with taboo and embarrassment. A contemporary and funny short story is the easiest possible piece to perform at a book reading, so Touchy Subjects was a breeze to promote; I relied heavily on 'The Cost of Things', because it seems as if everyone has a strong view on cats.
To buy Touchy Subjects
In the US, paperback: http://www.hmhco.com/shop/books/Touchy-Subjects/9780156032612
or ebook: http://www.hmhco.com/shop/books/Touchy-Subjects/9780547607498
In the UK/Ireland/Australia, paperback: https://www.littlebrown.co.uk/books/detail.page?isbn=9781844087396
or ebook: https://www.littlebrown.co.uk/books/detail.page?isbn=9780748133451
In Canada, paperback: http://harpercollins.ca/books/Touchy-Subjects-Emma-Donoghue/?isbn=9781443407465
or ebook: http://harpercollins.ca/books/Touchy-Subjects-Emma-Donoghue/?isbn=9781443407472
Reviews
'Virtually every tale in Touchy Subjects is lucid, concise, clever and poignant. Roaming the globe, from many walks of life, bearing their painful and wonderful aspects alike, Donoghue's characters will remind readers of themselves in the here and now.' – Miami Herald
'Feisty… roguish sense of play… Donoghue's light touch can handle everything from painful bewilderment to ridiculous tiffs to unexpected happiness.' – Seattle Times
'Donoghue has the born storyteller's knack for sketching a personality and pulling readers into a plot… Delightful examples of Donoghue's all-encompassing talent that should be read by… anyone who cherishes thoughtful, warm-hearted fiction.' – Kirkus
'Wonderfully wide-ranging collection… wryly comic… no weak links.' – Library Journal
'Both truthful and touching. She can dissect a relationship with great precision… Delightful. – Times
'Excellent new collection… Her touch is so light and exuberantly inventive, her insight at once so forensic and intimate, her people so ordinary even in their oddities. … Unnervingly exact.' – Guardian
'Donoghue is one of those rare writers who seems to be able to work on any register, any tone, any atmosphere, and make it her own. None of these stories feel as if they were written by the same person : each has a unique voice… It's hard to outline the cleverness of these stories without giving away the twists… They are as funny as they are moving.' – Observer
'Fizzes with affection, fun and fecundity. … there's an intimacy and immediacy about the characters that allows the reader to feel they could lean over and poke them in the arms. … Donoghue's stories demonstrate an understanding of humanity and a mind that can excavate characters and that lives far, far beyond her own front fence.' – Globe and Mail
Bibliography
Sophie Long, 'The Empty Family, Colm Toibin, and Touchy Subjects, Emma Donoghue', New Welsh Review, 19 August 2011, http://newwelshreview.blogspot.fr/2011/08/empty-family-colm-toibin-and-touchy.html
Kristina Quynn, 'Eccentric Moves: Irishness and Gender sans Exile in Emma Donoghue's Touchy Subjects,' paper delivered at Women in Irish Culture and History Conference (University College Dublin, 2006)
Stevie Davies, 'Plucked With Tweezers', Guardian, 16 December 2006
Viv Groskop, 'Tales Beyond the Cringe', Observer, 31 Dec 2006
Anakana Schofield, 'Fizz, Fun and Fecundity', Globe and Mail, 23 December 2006
Tibor Fischer, 'The Political Is Personal', New York Times Book Review, 17 September 2006
'Touchy Subjects', Kirkus, 1 April 2006