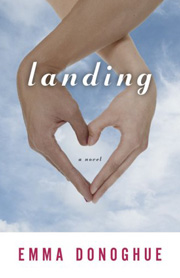 Landing (New York : Harcourt, 2007). A contemporary love story about emigration, Landing – my fifth novel - is set in boomtown Ireland and smalltown Canada. In 2008 the Golden Crown Literary Society gave it an award in the Lesbian Dramatic General Fiction category.
A personal note: Landing was known, until the brink of publication, as Time-Zone Tango, a phrase to describe long-distance relationships that still gives me a kick. The novel was inspired by my own experience of commuting between Canada, England and Ireland for a few years before making the move to Canada. Landing was extremely hard to write, I think because of the need to wrestle autobiographical material into dramatic shape, and difficult to publish, I suspect because it is – on the whole – an upbeat romance.
To buy Landing
In the US, paperback: http://www.hmhco.com/shop/books/Landing/9780156033787
or ebook: http://www.hmhco.com/shop/books/Landing/9780547541259
or audio: http://www.audible.com/adbl/site/products/ProductDetail.jsp?BV_UseBVCookie=Yes&productID=BK_BBCA_000037
In the UK/Ireland/Australia, ebook: http://www.panmacmillan.com/book/emmadonoghue/landing?format=978144724815601
on audio: https://thereadinghouse.co.uk/products/landing-by-emmadonoghue?_pos=7&_sid=7edcf9ef4&_ss=r
In Canada, paperback: http://harpercollins.ca/books/Landing-Emma-Donoghue/?isbn=9781443422642
or ebook http://harpercollins.ca/books/Landing-Emma-Donoghue/?isbn=9781443422659
Wherever you live, PLEASE support your local indie bookstore by buying from them either directly or through an indie-friendly hub such as bookshop.org or hive.co.uk.
Translations
Zarte Landung (Berlin: Krug & Schadenberg, 2014)
Long courrier (Paris: KTM éditions, 2013)
Landen (Utrecht: LaVita, 2009)
Tocando Tierra (Barcelona-Madrid: Egales, 2010)
Reviews
'Explores with a light, sure touch the subject of desire across distances of various kinds: generational, cultural, even spiritual. Donoghue handles the complexities of the women's relationship with ease… [an] entertaining journey into what Jude calls "the intersection of love and geography.' – New York Times Book Review
'Lesbian romance goes mainstream in this charming tale… nervous and sexy and funny in the best romantic-comedy tradition… razor-sharp prose, full-bodied portraits of all the secondary characters and shrewd observations about everything… warmhearted, readable and entertaining.' – Kirkus
'Donoghue's sprightly novel is a comedy of manners, a romantic romp with a teasing twist. Like much of the talented writer's fiction, the book is clever, well populated with eccentric characters and full of surprises… Donoghue's smart, sexy, wryly observed novel succeeds in catching the tenor of the times.' – London Free Press
'Emma Donoghue's wit serves her well… a delight to read… manages to convey the strangeness, as well as the familiarity, of both Canada and Ireland, when viewed through lover's eyes. How moving her two lovers are, in every sense.' – Toronto Star
Bibliography
Ellen McWilliams, 'Transatlantic Encounters in the Writing of Emma Donoghue', in her Irishness in North American Women's Writing (Springer, 2021), pp.161-80. Considers Landing and Astray. https://link.springer.com/chapter/10.1057/978-1-137-53788-1_7

Anna Charczun, Irish Lesbian Writing Across Time: A New Framework for Rethinking Love Between Women (Peter Lang, 2021), pp. 145-220.
José Carregal, Queer Whispers: Gay and Lesbian Voices of Irish Fictions (University College Dublin Press, 2021), Ch 6 '"The room feels warmer when you're in it": Lesbian Relationships in Emma Donoghue's Contemporary-Set Novels' (pp.101-17)
Amy Finlay-Jeffrey, 'Towards a queer liminality: an examination of the use of space in Irish lesbian fiction 1872-2017', D Phil (Queens, 2020), pp.158-200
Amy Finlay-Jeffrey, 'Homonormativity and Emma Donoghue's Landing (2007),' Intertexts, 24 (Spring-Fall 2020), pp.1-22
A. Charczun, 'Can I Write About It Yet?: The Influence of Politics on Literary Representations of Lesbians in Irish Women's Writing,' in Sijis [Studi Irlandesi] 10 (2020): 43-62. Considers Stirfry, Hood and Landing.
Kaarina Mikalson, '"The best tradition of womanhood": Negotiating and Reading Identities in Emma Donoghue's Landing,' in Canada and Beyond Vol. 7 (2018), http://rabida.uhu.es/dspace/handle/10272/15108
Emma Young, ' "Annihilate but space and time, And Make two lovers happy": National Homelands and Lesbian Relationships in Emma Donoghue's Landing', Peer English (Special Issue: Time and Space in Contemporary Women's Writing, 2013)
Sinéad Moynihan, "Other People's Diasporas": Negotiating Race in Contemporary Irish and Irish-American Culture (Syracuse, NY: Syracuse University Press, 2013), pp.203-09. A thoughtful discussion of race and emigration in Landing.
Zuzanna Sanches, 'Long-distance Landing: Emma Donoghue and her Experience of Otherness in Canada,' Anglo Saxonica 3:2 (2011)
Moira Casey, "' If love's a country' : Transnationalism and the Celtic Tiger in Emma Donoghue's Landing," New Hibernia Review, 15:2 (Summer 2011), 64-79.
Stacia Bensyl, 'Technological Entanglements: Emma Donoghue's Landing,' paper delivered at ACIS Midwestern (2009).
Libe García Zarranz, 'Geopolitical and Gender Border Crossings in Emma Donoghue's Landing,' paper delivered at Queering Ireland Conference (Halifax, 2009).
'In Flight Moves', Sylvia Brownrigg, New York Times, 22 July 2007