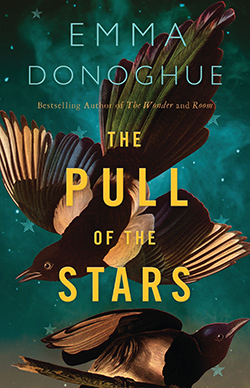 The Pull of the Stars (New York: Little Brown; Toronto: HarperCollins Canada; London: Picador, 2020).


Dublin, 1918: three days in a maternity ward at the height of the Great Flu. A small world of work, risk, death and unlooked-for love. In an Ireland doubly ravaged by war and disease, Nurse Julia Power works at an understaffed hospital in the city centre, where expectant mothers who have come down with the terrible new flu are quarantined. Into Julia's regimented world step two outsiders—Doctor Kathleen Lynn, on the run from the police, and a young volunteer helper, Bridie Sweeney. In the darkness and intensity of this tiny ward, over three days, these women change each other's lives in unexpected ways. They lose patients to this baffling pandemic, but they also shepherd new life into a fearful world. With tireless tenderness and humanity, carers and mothers alike somehow do their impossible work.
The Pull of the Stars is Donoghue's thirteenth novel (and seventeenth book of fiction).
A personal note: This novel was inspired by the centenary of the 1918 pandemic, and I sold it and finished the final draft before the world was transformed by COVID-19. As soon as I began researching the Great Flu, one fact that leapt out at me was that women before, during and for weeks after birth were particularly vulnerable to catching and suffering terrible complications from that virus. I've put into this story some of the labour dramas of women I know (and one of my own) and all my gratitude to frontline health workers who see us through our most frightening and transformative experiences. I could have set The Pull of the Stars anywhere, but I went for my home town of Dublin partly because Ireland was going through such a fascinating political metamorphosis in those years, and because I wanted to reckon with my country's complicated history of carers, institutions and motherhood.
To buy The Pull of the Stars:
In the US
https://www.littlebrown.com/titles/emma-donoghue/the-pull-of-the-stars/9780316499019/
In Canada
https://www.harpercollins.ca/9781443461788/the-pull-of-the-stars/
In the UK
https://www.panmacmillan.com/authors/emma-donoghue/f1c39b82-69f7-4c24-ba79-08d5dcddecde
Whenever you live, please support your local indie bookstore!
REVIEWS
'Offers vivid characters and a gripping portrait of a world beset by a pandemic and political uncertainty. A fascinating read in these difficult times. Readers ardently pursue every book by Donoghue, but the prescient pandemic theme and valiant nurse protagonist in her latest will increase interest exponentially.' - Booklist (starred review)