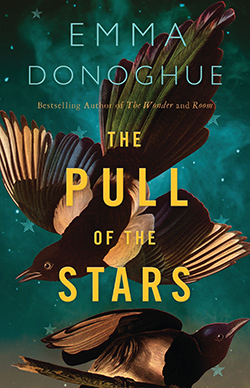 The Pull of the Stars (New York: Little Brown; Toronto: HarperCollins Canada; London: Picador, 2020).
Dublin, 1918: three days in a maternity ward at the height of the Great Flu. A small world of work, risk, death and unlooked-for love. In an Ireland doubly ravaged by war and disease, Nurse Julia Power works at an understaffed hospital in the city centre, where expectant mothers who have come down with the terrible new flu are quarantined. Into Julia's regimented world step two outsiders—Doctor Kathleen Lynn, on the run from the police, and a young volunteer helper, Bridie Sweeney. In the darkness and intensity of this tiny ward, over three days, these women change each other's lives in unexpected ways. They lose patients to this baffling pandemic, but they also shepherd new life into a fearful world. With tireless tenderness and humanity, carers and mothers alike somehow do their impossible work.
The Pull of the Stars is Donoghue's thirteenth novel (and seventeenth book of fiction). On publication it became a #1 bestseller in Ireland and Canada - staying on Canadian bestseller lists for eight months - and made the New York Times list as well as the Sunday Times list (UK) as well. It was shortlisted for the Easons Irish Novel of the Year, the Trillium Book Award, the Stonewall Book Awards Barbara Gittings Literature Award, a Goodreads Choice Award for historical fiction, and longlisted for the Scotiabank Giller Prize for Canadian fiction. The Pull of the Stars was a Richard and Judy Book Club pick, a Barnes & Noble Book Club choice, a Reader's Digest Book Club Pick and an Australian Women's Weekly Book Club Pick as well as an Oprah Magazine Best Book of Summer 2020 and a Guardian, Telegraph, NPR, CBC, Globe and Mail, Cosmopolitan and Chapters Indigo Best Book of 2020. The unabridged audiobook read by Emma Lowe won an AudioFile Earphones award.

A personal note: I began this novel in October 2018, inspired by the centenary of the Great Flu of 1918-19, and I delivered the final draft to my publishers in March 2020, two days before COVID-19 was declared a pandemic. In researching the Great Flu, one fact that leapt out at me was that women before, during and for weeks after birth were particularly vulnerable to catching and suffering terrible complications from that virus. I've put into this story some of the labour dramas of women I know (and one of my own), and all my gratitude to frontline health workers who see us through our most frightening and transformative experiences. I could have set The Pull of the Stars anywhere, but I went for my home town of Dublin partly because Ireland was going through such a fascinating political metamorphosis in those years, and because I wanted to reckon with my country's complicated history of carers, institutions and motherhood.
To buy The Pull of the Stars:
In the US
https://www.littlebrown.com/titles/emma-donoghue/the-pull-of-the-stars/9780316499019/
In Canada
https://www.harpercollins.ca/9781443461788/the-pull-of-the-stars/
In the UK
https://www.panmacmillan.com/authors/emma-donoghue/the-pull-of-the-stars/9781529046151
Wherever you live, PLEASE support your local indie bookstore by buying from them either directly or through an indie-friendly hub such as bookshop.org or hive.co.uk.
EXTRAS
My playlist of songs sung/overheard in The Pull of the Stars, with commentary:
http://www.largeheartedboy.com/blog/archive/2020/08/emma_donoghues.html
Read excerpts of The Pull of the Stars here:
https://www.nytimes.com/2020/07/22/books/review/the-pull-of-the-stars-by-emma-donoghue-an-excerpt.html
https://www.theatlantic.com/books/archive/2020/05/emma-donoghue-the-pull-of-the-stars-excerpt/610816/
https://www.oprahmag.com/entertainment/books/a32825423/emma-donoghue-novel-pull-of-the-stars-excerpt/
https://www.lambdaliterary.org/2020/07/pull-of-the-stars/
Articles by me:
https://www.thestar.com/entertainment/books/2020/07/24/emma-donoghue-this-was-an-eerie-experience-living-through-two-pandemics-at-once.html
https://www.independent.ie/entertainment/books/two-days-after-i-delivered-my-last-draft-the-who-declared-covid-19-a-pandemic-emma-donoghues-timely-new-novel-is-set-in-ireland-during-spanish-flu-outbreak-39378652.html
https://www.waterstones.com/blog/emma-donoghue-on-the-impact-of-the-spanish-flu-in-ireland
And interviews:
https://www.theatlantic.com/books/archive/2020/05/emma-donoghue-interview-the-pull-of-the-stars-the-blood-tax/610828/
https://podcasts.apple.com/us/podcast/emma-donoghue/id1220910735?i=1000485581240
BBC Radio 4's Woman's Hour: https://www.bbc.co.uk/programmes/m000l0r5
https://www.latimes.com/entertainment-arts/books/story/2020-07-21/emma-donoghue-the-pull-of-the-stars-profile
https://www.cbc.ca/listen/live-radio/1-50-q/clip/15788203-emma-donoghues-prescient-pandemic-novel-reveals-health-political
TRANSLATIONS
The Pull of the Stars is forthcoming in French, Italian, Portuguese (Portugal and Brazil), Arabic, Russian, Czech, Hungarian, Romanian, Polish, complex Chinese characters and Japanese.
REVIEWS
'A timely, exquisite and unputdownable reminder of love and compassion in the smallest room where women are giving birth and other women are dying and yet love - in all its joy and complexity - still finds a place.' - Rachel Joyce
'A visceral, harrowing, and revelatory vision of life, death, and love in a time of pandemic. This novel is stunning.' - Emily St John Mandel
'With an urgency that brilliantly captures the high-stakes horror and exhilaration of life on a pandemic's front lines, the Room author centers her latest spine-tingler on a maternity ward nurse charged with keeping new mothers—and herself—safe as the 1918 Great Flu sweeps Ireland. ... Imagine an episode of Grey's Anatomy set at the turn of the twentieth century and you'll have some idea of the chills and thrills of this medical drama from Donoghue ... Come for the heart-stopping prose, stay for the hair-raising glimpse of the people fighting at a pandemic's front lines.' - Oprah Magazine
'Eerily reminiscent of our current global health crisis, The Pull of the Stars brings readers intimately close to a world where health care workers risk it all to keep their patients alive.' - Time
'Gripping... searing portrait of women's lives... From these dark materials, Donoghue has fashioned a tale of heroism that reads like a thriller, complete with gripping action sequences, mortal menaces and triumphs all the more exhilarating for being rare and hard-fought. ... Many novels depict the brotherhood of men at war. Donoghue celebrates the sisterhood of women bringing life into the world and those who help them along this perilous journey. ... Many novels depict the brotherhood of men at war. Donoghue celebrates the sisterhood of women bringing life into the world and those who help them along this perilous journey. - ... blunt lyricism characteristic of Donoghue's eloquent, no-frills writing style. ... As in her best-known work, the deservedly megaselling "Room," Donoghue infuses catastrophic circumstances with an infectious — but by no means blind — faith in human compassion, endurance and resilience.' - Washington Post
'Her prose sings with blunt poetry ... a story rich in swift, assured sketches of achingly human characters coping as best they can in extreme circumstances. Darkly compelling, illuminated by the light of compassion and tenderness: Donoghue's best novel since Room.' - Kirkus (starred review)
'It doesn't feel, though, like a historical novel at all. "The Pull of the Stars" moves with the quickness of a thriller ... Donoghue has pulled off another feat: She wrote a book about a 100-year-old flu that feels completely current, down to the same frustrations and tensions and hopes and dangers. And she did it without even knowing just how relevant it would be' - LA Times
'Donoghue swerves away from contrivance: She's such a deft, lyrical and sometimes even cheeky writer. ... she's given us our first pandemic caregiver novel — an engrossing and inadvertently topical story about health care workers inside small rooms fighting to preserve life.' - NPR Fresh Air
'An evocative, and almost eerily timely work ... gripping and terrifying moment. - Vogue
'Donoghue, a first-rate historical novelist, skillfully weaves the era's primitive medical understanding and social prejudices into her moving story of three caregivers with little but loving care to give.' - Maclean's
''This one is timely as well as impeccably researched and immensely readable, as always with Donoghue.' - Toronto Star
'It is a heady mix and one Donoghue stirs and shakes with trademark aplomb. ... Donoghue's novel, which takes place over a harrowing three days, is a timely commentary not only on life and death, but also on the workings of fate. ... As always, Donoghue catches the reader's attention. Her look at both unforeseen plague and the dangerous rituals of childbirth is riveting and moving. In her disturbing but thought-provoking tale, hope and empathy appear in unexpected ways as patients and nurses alter each other's lives.' - Postmedia Network
'A beautifully modulated historical novel ... Donoghue's prose is visceral, and the sense of peril in the cramped, tiny ward is compelling. ... there is tenderness and even beauty amid the horror' - The Observer
'Moving and memorable' - Daily Mail
'Emma Donoghue has a gift for taking details from the past and creating believable and absorbing worlds around them.' - The Tablet
'This moving tale of Spanish Flu in Ireland feels bang on the nose. ... [I] cram[med] in every last word in the space of 24 hours, even as I flinched at how the terrors of the past were suddenly so continguous with the horrors of the present ... she again conjures up a setting that is at once claustrophobic in feel yet epic in sweep. ... I read much of the childbirth descriptions through my fingers. By the end I had a lump in my throat. For the dead yes, for the dying too, but above all for the hope. The Covid-19 zeitgeist deserves nothing less.'- Telegraph
'An utterly gripping account of Julia's blood, sweat and tears... Fans of Call The Midwife will relish the true-to-life accounts of labour and the novel will also appeal to anyone who enjoyed Adam Kay's This Is Going To Hurt.' - Daily Express
'Devastating and fascinating... A powerful, persistent, highly detailed and incredibly moving book that speaks through time. Donoghue is a marvel of a writer.' - Press Association syndicated review

'A master of scene-setting... this authenticity this awards is coupled with Donoghue's empathetic imagination... Donoghue's diligence and emotional intelligence have converged beautifully to tell stories of childless mothers and motherless children which will long resonate. And probably get made into a movie.' - Big Issue
'It is some cocktail and Donoghue mixes the ingredients with impressive skill' - Mail on Sunday
'At once harrowing and heartening ... Among the novel's strongest attractions is the interaction between the three women. ... The brief timespan makes for succinctness and intimacy. ... Emma Donoghue takes the stuff of a newspaper headline as a starting point, and expands and transforms its core element into an original and arresting work of fiction.' - Times Literary Supplement
'Emma Donoghue's best novel since Room is a mesmeric, blood, sweat and placenta-soaked story' - Metro
'[Julia] carries the story with the affecting first-person immediacy that Donoghue is known for. ... The Pull of the Stars is an immersive, unforgettable fever-dream of a novel. It's almost pathological in the way it infects you, pushes you to your limits and then drops you back in to real life feeling bruised and slightly wonky, but mostly just so grateful for the work that nurses do.' - Times
'Donoghue writes with such brilliant relish . . . fascinating and resonant' - Sunday Times
'The Pull of the Stars has a fever dream-like quality . . . as a tender record of humans coping as best they can with a pandemic, it's about as moving and absorbing as it gets [...] Timely, punchy and gripping' - Evening Standard
'Moving, gripping and dazzlingly written' - Stylist
'A defining strength in Emma Donoghue's work is narrative voice, and here it is as strong and compelling as Jack in Room and Lib in The Wonder . . . a haunting and finely balanced literary novel ... complex, well-developed characters with distinctive voices and lives based on thorough research, vivid in ways that only excellent writing can offer.' - The Guardian
'Vivid retelling of a past pandemic has profound resonance today... rarely can a novel have been as prescient and timely... the novel zips by with the pace of a thriller ... Donoghue conjures up the period brilliantly ... even the minor characters are well-rounded and believable. ... there's sadness aplenty, but also a little love and hope amid the body-count, and the book flies by like a hospital shift, as drama follows crisis and victory chases tragedy in a never-ending cycle of suffering, joy and bodily fluids.' - Sunday Business Post
'A 'tarnished city' comes to life in observation that is sharp and painterly, forensic and dreamy. ... This childbirth at the knife edge, with fine drama made of its pickings, but the book comes from a place of profound sensitivity and respect for women and their little ones. ... Donoghue [is] a cultural historian of no minor stature. ... Emma Donoghue [is a] giant of letters. It is rare for such a fast-paced story to be told so beautifully, and the writing is comical and exquisite.' - Irish Independent
'This is an incredibly engaging book ... a great story and compelling characters.' - Books Ireland

'All men should read Emma Donoghue's flawless The Pull of the Stars ... The Dublin-born writer is one of our greatest living prose stylists. ... She is serious, wise and funny. She draws from the mind's eye and has a perfect ear for language as it is spoken. ... The extended, visceral, agonising scenes where the women try to deliver their babies while fighting for their own lives are unforgettable. ... Nurse Power, Bridie Sweeney and Dr Lynn are three of the most compelling characters I have seen in a novel. The men are there, too, in the background, and the author makes us feel for them too ... This novel is a rare sort of page-turner. You cannot stop reading ... This is a must-read novel.' - The Australian
'A majestic historical novel... achingly entertaining' - The Saturday Paper (Australia)
'Certainly, the currency of The Pull of the Stars gives it a gripping edge, but at its heart this is a story about friendship, love and compassion in extraordinary times [...] It's an engrossing read. Donoghue's writing is visceral and her female characters strike a powerful chord of humanity that stays with you' - Australian Women's Weekly
'Wonderful... you follow each twist in the story, each pant and push and scream, with the kind of engrossed interest of a crime story or a tense sporting contest. That the author can keep the reader on tenterhooks without ever needing to go outside the confines of a small hospital ward is a triumph of storytelling. ... This is a perfect story, the kind that stays in your mind, less for what happened than for the feeling that you have been an unseen witness to humanity at its most vulnerable and most noble.' - Canberra Times
BIBLIOGRAPHY
Bridget English, 'Women, Illness and Healing in Sue Rainsford's Follow Me to Ground and Emma Donoghue's The Pull of the Stars', paper delivered at American Conference for Irish Studies, 2021
Noël Ingram, ' "We All Live in an Unwalled City": Emma Donoghue's The Pull of the Stars and Radical Love', paper delivered at Radical Love Across Difference conference, CGWS, Boston, 2021
Wendy Smith, 'Emma Donoghue's 'The Pull of the Stars' sets a gripping story in the midst of the 1918 flu pandemic', Washington Post 21 July 2020, https://www.washingtonpost.com/entertainment/books/emma-donoghues-the-pull-of-the-stars-sets-a-gripping-story-in-the-midst-of-the-1918-flu-pandemic/2020/07/21/10a43968-cb5b-11ea-bc6a-6841b28d9093_story.html
Karen Thompson Walker, 'Don't Believe History Repeats Itself? Read This Book', New York Times 21 July 2020, https://www.nytimes.com/2020/07/21/books/review/the-pull-of-the-stars-emma-donoghue.html or https://www.nytimes.com/2020/07/21/books/review/the-pull-of-the-stars-emma-donoghue.html?unlocked_article_code=AAAAAAAAAAAAAAAACEIPuonUktbfq4hkT1UZAibfWt8ktVqciObOzaN7mn_zaTCITTIHyOpQH4iNvlzRbLB4ItY22j3eSNhHN7AvWfE0zvNaOwYlbTiUlaa-ucZPJTQp-8X0V3kq3pnJUPc1-2O0YzW1JaJ0lLDl-k_ZaDX1Ufbe2GkkJAtlqMFkJV6hiyAY1-ySRL4Or9p63v4rBJx6Ry5RJ3XZ-qm1VGgtfYmOfRre6QApWu9GWjm1ndWU6L0Icwg6GkuRBTokoj56sIUATYtRaKXvLBcged78iKETDwFrL4SpAJ4xQuvEhro1ieKGkoMvc2iRE1P8rIs
Eliana Dockterman, 'A Novel Set in a 1918 Flu Pandemic Maternity Ward Offers a Stark Warning for the Present', Time 22 July 2020, https://time.com/5870076/emma-donoghue-pull-of-the-stars/
Maureen Corrigan, '1918 Flu Inspired Donoghue's 'Pull Of The Stars' — A Disquieting Pandemic Novel', Fresh Air (NPR) 20 July 2020, https://www.npr.org/2020/07/20/892279658/1918-flu-inspired-donoghues-pull-of-the-stars-a-disquieting-pandemic-novel
Judith Woods, 'The Pull of the Stars by Emma Donoghue review: ready or not, the pandemic novel is here', Telegraph 18 July 2020, https://www.telegraph.co.uk/books/what-to-read/pull-stars-emma-donoghue-review-ready-not-pandemic-novel/
Patricia Craig, 'A Better Influence: Three women rebel to save lives during Dublin's influenza pandemic in The Pull of the Stars by Emma Donoghue,' Times Literary Supplement 17 July 2020, https://www.the-tls.co.uk/articles/the-pull-of-the-stars-emma-donoghue-review-patricia-craig/