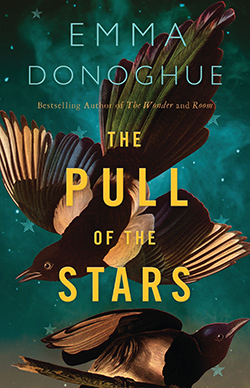 The Pull of the Stars (New York: Little Brown; Toronto: HarperCollins Canada; London: Picador, 2020).
Dublin, 1918: three days in a maternity ward at the height of the Great Flu. A small world of work, risk, death and unlooked-for love. In an Ireland doubly ravaged by war and disease, Nurse Julia Power works at an understaffed hospital in the city centre, where expectant mothers who have come down with the terrible new flu are quarantined. Into Julia's regimented world step two outsiders—Doctor Kathleen Lynn, on the run from the police, and a young volunteer helper, Bridie Sweeney. In the darkness and intensity of this tiny ward, over three days, these women change each other's lives in unexpected ways. They lose patients to this baffling pandemic, but they also shepherd new life into a fearful world. With tireless tenderness and humanity, carers and mothers alike somehow do their impossible work.
The Pull of the Stars is Donoghue's thirteenth novel (and seventeenth book of fiction).
A personal note: I began this novel in October 2018, inspired by the centenary of the Great Flu of 1918-19, and I delivered the final draft to my publishers two days before COVID-19 was declared a pandemic. As soon as I began researching the Great Flu, one fact that leapt out at me was that women before, during and for weeks after birth were particularly vulnerable to catching and suffering terrible complications from that virus. I've put into this story some of the labour dramas of women I know (and one of my own), and all my gratitude to frontline health workers who see us through our most frightening and transformative experiences. I could have set The Pull of the Stars anywhere, but I went for my home town of Dublin partly because Ireland was going through such a fascinating political metamorphosis in those years, and because I wanted to reckon with my country's complicated history of carers, institutions and motherhood.
To buy The Pull of the Stars:
In the US
https://www.littlebrown.com/titles/emma-donoghue/the-pull-of-the-stars/9780316499019/
In Canada
https://www.harpercollins.ca/9781443461788/the-pull-of-the-stars/
In the UK
https://www.panmacmillan.com/authors/emma-donoghue/the-pull-of-the-stars/9781529046151
Wherever you live, please support your local indie bookstore!
EXTRAS
Read an excerpt here: https://www.theatlantic.com/books/archive/2020/05/emma-donoghue-the-pull-of-the-stars-excerpt/610816/
And a Q&A: https://www.theatlantic.com/books/archive/2020/05/emma-donoghue-interview-the-pull-of-the-stars-the-blood-tax/610828/
TRANSLATIONS
The Pull of the Stars is forthcoming in Portugueze, Russian and Czech.
REVIEWS
'Her prose sings with blunt poetry ... a story rich in swift, assured sketches of achingly human characters coping as best they can in extreme circumstances. Darkly compelling, illuminated by the light of compassion and tenderness: Donoghue's best novel since Room.' - Kirkus (starred review)
''This one is timely as well as impeccably researched and immensely readable, as always with Donoghue.' - thespec.com
'With an urgency that brilliantly captures the high-stakes horror and exhilaration of life on a pandemic's front lines, the Room author centers her latest spine-tingler on a maternity ward nurse charged with keeping new mothers—and herself—safe as the 1918 Great Flu sweeps Ireland. ... Imagine an episode of Grey's Anatomy set at the turn of the twentieth century and you'll have some idea of the chills and thrills of this medical drama from Donoghue ... Come for the heart-stopping prose, stay for the hair-raising glimpse of the people fighting at a pandemic's front lines.' - oprahmagazine.com
'A timely, exquisite and unputdownable reminder of love and compassion in the smallest room where women are giving birth and other women are dying and yet love - in all its joy and complexity - still finds a place.' - Rachel Joyce
'A visceral, harrowing, and revelatory vision of life, death, and love in a time of pandemic. This novel is stunning.' - Emily St John Mandel
'Eerily reminiscent of our current global health crisis, The Pull of the Stars brings readers intimately close to a world where health care workers risk it all to keep their patients alive.' - Time
'Donoghue, a first-rate historical novelist, skillfully weaves the era's primitive medical understanding and social prejudices into her moving story of three caregivers with little but loving care to give.' - Maclean's
'An evocative, and almost eerily timely work ... gripping and terrifying moment. - Vogue
'Eerily prescient novel set during a flu pandemic ... the perfect read for right now.' - Good Housekeeping
'Offers vivid characters and a gripping portrait of a world beset by a pandemic and political uncertainty. A fascinating read in these difficult times. Readers ardently pursue every book by Donoghue, but the prescient pandemic theme and valiant nurse protagonist in her latest will increase interest exponentially.' - Booklist (starred review)