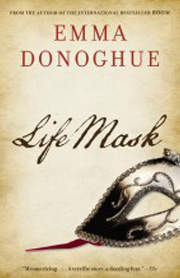 Life Mask (New York: Harcourt; London: Virago, 2004), my fourth novel, is about a love triangle in 1790s London, among the elite who moved through the overlapping worlds of art, politics, sport and theatre. It tells the tangled true story of three people who lived in the harsh glare of publicity: the Honourable Mrs Anne Damer (a widowed sculptor with a Sapphic reputation), the Earl of Derby (a fabulously wealthy politician who founded the Derby horserace), and Eliza Farren (the leading comedy actress on the British stage). Life Mask was a finalist in the 2005 Lambda and Ferro-Grumley Awards for Lesbian Fiction and the Stonewall Book Award, and was chosen as one of the Best Books of 2004 by the Washington Post.
An audiobook version of Life Mask, narrated by Donada Peters, can be downloaded from audible.com : www.audible.com/adbl/site/products/ProductDetail.jsp?productID=BK_BKOT_001158&BV_UseBVCookie=Yes
A personal note: Life Mask, which I delivered just before doing the same for our first child, was based on the kind of bottomless research that I can't quite imagine having the time to do now that I have kids. It taught me that it's actually much easier to write about the poor, as in Slammerkin, because they left so few texts behind, unlike rich and articulate folk such as Horace Walpole, one of the characters in Life Mask. The research – into my characters' worlds of theatre, art, sport and politics – was endlessly enjoyable. I set myself the challenge of sticking as closely to historical fact as I could, writing for instance about a dinner party happening on the day – and with the guest list – that it really did. The result is that Life Mask is both the longest and the most slowly paced of all my books – but for those readers who like to immerse themselves in a glamorous lost world, that's not necessarily a bad thing.
To buy Life Mask:
US: http://hmhbooks.com/hmh/site/hmhbooks/bookRetail?isbn=9780156032643
A wonderfully illustrated edition in Canada:
http://www.harpercollins.ca/books/Life-Mask-Emma-Donoghue?isbn=9781443406956&HCHP=TB_Life+Mask
UK/Ireland:
Reviews
'A mesmerizing new novel, which at 650 pages is like one of those great 19th-century tomes that you're sad to see come to an end.... Donoghue...has alighted on another terrific story, and she pulls off a dazzling feat of choreography in setting it all in motion. She takes obvious delight in the sumptuous details of dress and comportment, the subtle inflections in conversation and the slow blooming of erotic tension. As Georgina, Duchess of Devonshire would say, 'It was all simply ravish.'" – Washington Post Book World
'A brilliantly woven tale' – Time Out
'An atmosphere of passionate sensuality; small private spaces and intimate moments for the protagonists act as a counterpart to the salacious gossip and heartlessness of the wider world… It is thanks to Donoghue's skill as a novelist that her characters are so vividly and amusingly resurrected.' – Times Literary Supplement
'Vividly alive… complex and moving.' – Sunday Times
'Donoghue… has an extraordinary talent for turning exhaustive research into plausible characters and narratives; she presents a vibrant world seething with repressed feeling and class tensions.' – Publishers Weekly (starred review)
Bibliography
Claire O'Callaghan, 'Reclaiming Anne Damer/ Recovering Sapphic History: Emma Donoghue's Life Mask', in The Female Figure in Contemporary Historical Fiction, ed. Katherine Cooper and Emma Short (Basingstoke: Palgrave Macmillan, 2012).
Stacia Bensyl, 'Emma Donoghue's Life Mask: Rhetoric of Hate and Terror', in Sapphists and Sexologists: Histories of Sexualities, Volume 2, ed. Sonja Tiernan and Mary McAuliffe, (Newcastle: Cambridge Scholars Publishing, 2009), 41-55.
Eibhear Walshe, 'Emma Donoghue, b. 1969', in Anthony Roche, ed. The UCD Aesthetic: Celebrating 150 Years of UCD Writers (Dublin: New Island, 2005), 274-84. Insightful analysis, especially of triangles in Life Mask.
Luac Gaines, 'An Interview with Emma Donoghue', www.curledup.com/intdono.htm
'Looking For the Limelight', Julia Livshin, Washington Post Book World, 10 October 2004
'Behind the Mask', Time Out, 16-23 June 2004
'Eliza's New Pygmalion On the Georgian Stage Set', Dermot Bolger, Sunday Independent, 5 September 2004
'Sense, Sensibility… and Sex', Karen Solie, Globe and Mail, 31 July 2004
'Life Mask', Kirkus, 1 July 2004
Lorna Gibb, 'Female Friendship', Times Literary Supplement, 25 June 2004