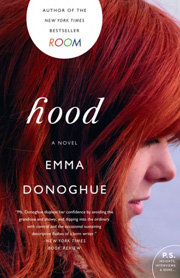 Hood (UK 1995, US 1996, reissued 2011). Penelope O'Grady and Cara Wall are risking disaster when, like teenagers in any intolerant time and place—here, a Dublin convent school in the late 1970s—they fall in love. In my second novel, Cara, the free spirit, and Pen, the stoic, craft a bond so strong it seems as though nothing could sever it, not even Cara's infidelities. But thirteen years on, a car crash kills Cara and rips the lid off Pen's world. Pen is still in the closet, teaching at her old school, living under the roof of Cara's gentle father, who thinks of her as his daughter's friend. How can she survive widowhood without even daring to claim the word? Over the course of one surreal week of bereavement, she is battered by memories that range from the humiliating, to the exalted, to the erotic, to the funny. It will take Pen all her intelligence and wit to sort through her tumultuous past with Cara, and all the nerve she can muster to start remaking her life. A tale of grief and lust, frustration and hilarity, death and family.
Winner of the 1997 American Library Association's Gay, Lesbian and Bisexual Book Award for Literature. The 15-year anniversary reprint (New York: HarperCollins, 2011) is edited by Brian Cliff and Emilie Pine with new introductory materials.
A personal note: Although Hood was never an easy sell – lesbians and death! – it is one of my favourite books of mine and perhaps the most autobiographical (the Southside Dublin house, the convent-school adolescence, and the radical feminist housing co-operative). Bereavement is an experience I had not had (and still haven't, amazingly): I wrote Hood to explore the question of how people get through such a loss, and I wanted it to be both highly specific in its circumstances and universal in its theme. The novel tackles both the closet and Catholicism with as much nostalgia as rage, I would say. One of my sisters complained that Hood contained 'too many bodily fluids'; to explain why this is the most sexually explicit of my books, I can only say that to resist death it seemed necessary both to conjure up the beloved's lost body in all its vividness and to show that for the survivor, life – at the level of every muscle, every cell – goes on.
To buy Hood
In the US, paperback: http://www.harpercollins.com/books/Hood-Emma-Donoghue/?isbn=9780062117106
or ebook: http://www.harpercollins.com/books/Hood-Emma-Donoghue/?isbn=9780062316813
In the UK/Ireland/Australia, ebook: http://www.panmacmillan.com/book/emmadonoghue/hood?format=978144724813201
or audio: https://thereadinghouse.co.uk/products/hood-by-emmadonoghue?_pos=2&_sid=7edcf9ef4&_ss=r
In Canada, paperback: http://harpercollins.ca/books/Hood-Emma-Donoghue/?isbn=9781443422628
or ebook: http://harpercollins.ca/books/Hood-Emma-Donoghue/?isbn=9781443422635
Translations
Verlies (Amsterdam/Antwerpen: Atlas, 1996)
Forlust (Stockholm: Norstedts, 1998)
Kisui (Tel Aviv: Alternativot, 2002)
Cara et Moi (Marsan, France: Editions Dans L'Engrenage, 2008)
Reviews
'Hood is thoroughly contemporary in how richly it depicts a beloved's death to review a couple's bumpy love history...This book's real pleasures lie in its intimate insights, its accurate characters and its sharp, rich observations... the greatest achievement of Hood is how it captures the domesticity of erotic passion' – Boston Globe
'Utterly charming' – New York Times Book Review
'Donoghue negotiates this territory deftly and with rather startling humour... It is Pen's winning sanity and avid eye for absurdity - in the Church and in the bedroom - that keeps this confident, touching novel afloat.' – Independent on Sunday
Bibliography
Lauren Cassidy, 'A Poem Made Flesh': Necromancing the Sovereignty Goddess in Emma Donoghue's Hood,' in Irish University Review, May 2023, vo. 53, No. 1 : pp. 173-188, https://www.euppublishing.com/doi/full/10.3366/iur.2023.0596

José Carregal, Queer Whispers: Gay and Lesbian Voices of Irish Fictions (University College Dublin Press, 2021), Ch 6 '"The room feels warmer when you're in it": Lesbian Relationships in Emma Donoghue's Contemporary-Set Novels' (pp.101-17)
Anna Charczun, Irish Lesbian Writing Across Time: A New Framework for Rethinking Love Between Women (Peter Lang, 2021), pp. 145-220.
Amy Finlay-Jeffrey, 'Towards a queer liminality: an examination of the use of space in Irish lesbian fiction 1872-2017', D Phil (Queens 2020), pp.158-200
A. Charczun, 'Can I Write About It Yet?: The Influence of Politics on Literary Representations of Lesbians in Irish Women's Writing,' in Sijis [Studi Irlandesi] 10 (2020): 43-62. Considers Stirfry, Hood and Landing.
Carissa Foo (Yale - NUS College), 'On Female Hesitancy in Emma Donoghue's Stir-Fry and Hood,' paper delivered at IASIL (Singapore 2017).
Abigail Palko, Imagining Motherhood in Contemporary Irish and Caribbean Literature (London: Palgrave, 2016), Ch.5
Amy Finlay (Queen's University, Belfast), 'The Queer Body in Emma Donoghue's Irish Closet', paper delivered at Talking Bodies conference (Chester, 2015).
Isabelle Coy-Dibley, '(In)Equality of Sexual-Orientation within Emma Donoghue's Hood: The Problematic Category of "Lesbian" in Irish and British Law,' 2015, https://www.academia.edu/9566487/_In_Equality_of_Sexual_Orientation_within_Emma_Donoghue_s_Hood_The_Problematic_Category_of_Lesbian_in_Irish_and_British_Law
Emma Young, ''No Place like Home: Re-writing "Home" and Re-locating Lesbianism in Emma Donoghue's Stir-fry and Hood,' Journal of Internatinal Women's Studies, 14(4), 2013, pp.5-18, http://vc.bridgew.edu/jiws/vol14/iss4/2
George O'Brien, The Irish Novel 1960-2010 (Cork: Cork University Press, 2012), 126-27. Intelligent reading of Hood.
Annie Galvin (Trinity College, Dublin), ' "A Sweet Colleen and a Salty Sinner": Queer Borderlands in Emma Donoghue's Early Fiction,' Space, Technology and Modernity in Irish Literature conference (2010).
Tammy Clewell, Mourning, Modernism, Postmodernism (Palgrave Macmillan, 2009), 129-143. Excellent analysis of Hood in terms of the pros and cons of lesbian invisibility.
Rebecca Lee Viser, 'In the Name of the Mother: a Post-Colonial Reading of Portrayals of Gender in Irish Fiction', MA thesis (Georgetown, 2009).
Clare Mulcahy, 'Religion, the Irish Nation and Lesbianism in Emma Donoghue's Hood', Queering Ireland Conference (Halifax, 2009).
Emily McCann, 'Queering the Celtic Tiger: Reimagining the Nation State in Two Dublin Bildungsroman', MA thesis (University of Florida, 2008).
Constance Bracewell, "The Naming of the Screw: Incommensurate Sexual Paradigms in Emma Donoghue's Hood', paper delivered at ACIS South Conference (2007).
Shauna Goble," 'A skin that had split, and been shed': Female Identity and Sexuality in Emma Donoghue's Slammerkin and Hood, paper delivered at ACIS South (2007).
Kathleen O'Brien, 'Contemporary Caoineadh: Talking Straight Through the Dead', Canadian Journal of Irish Studies 32.1 (Spring 2006), 56-63.
Eibhear Walshe, 'Emma Donoghue, b. 1969', in Anthony Roche, ed. The UCD Aesthetic: Celebrating 150 Years of UCD Writers (Dublin: New Island, 2005), 274-84. Insightful analysis of triangles in Hood.
Rebecca Pelan, Two Irelands: Literary Feminisms North and South (Syracuse, NY: Syracuse University Press, 2005), 10-12. An intelligent reading of 'big house' and Joycean motifs in Hood.
Moira E. Casey, "The Literary Heritage of Emma Donoghue's Stir-fry and Hood,' paper delivered at BSIS conference (University of Liverpool, 2004).
Sarah Elisabeth Cornish (Wheelock College, Boston), 'Voices in Flesh: Representations of Scars as Narrative in Colum McCann's This Side of Brightness and Emma Donoghue's Hood,' paper delivered at GRIAN Irish Studies Conference (NYU, 2003)
Moira Casey, 'The lesbian in the house: Twentieth-century Irish lesbian fiction' [deals with Stirfry and Hood], PhD University of Connecticut 2003 https://opencommons.uconn.edu/dissertations/AAI3078039/
Jennifer M. Jeffers, The Irish Novel at the End of the Twentieth Century: Gender, Bodies and Power (New York: Palgrave, 2002), 100-07.
Paulina Palmer, Lesbian Gothic (London and New York: Cassell, 1999), 50-51, 61-63, 85-90, 149-50.
Christina Hunt Mahony, Contemporary Irish Literature: Transforming Tradition (Basingstoke, Hampshire: Palgrave Macmillan, 1998), 265-67.
Catherine Lockerbie, 'Death in Dublin,' New York Times Book Review, 24 March 1996
E. J. Graff, 'Emma Donoghue: Love Mourned and Remembered,' Boston Globe, 17 March 1996
R. L. Widmann, 'Daughters of Sappho,' Washington Post, 24 September 1995